Fam-a-lam and Friends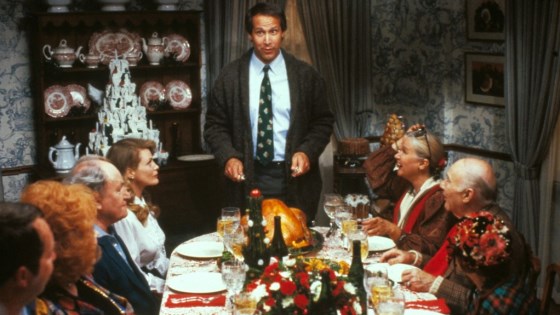 Full disclosure: I fucking love Christmas.
An old chunk of coal like me may not seem to be the type, especially if you know little about my personal life or ascertain my character purely through reading my work.
In spite of the probability that my writing engenders some kind of morose, lonely man in a lighthouse with his papers tacked to the walls and the bouncing waves to keep him from going insane, I do enjoy things.
I'm extremely close with my family; I love them a lot and Christmas Day has, for a long time, been the only day that I've been promised a day off for the better part of the past decade.
My folks moved to the island from the mainland a few years back. It's not quite as enjoyable an experience, if I have a glock to my knot. My experiences as an adult were arriving at my folks' house packed with orphans: their friends and my friends and my sibling's friends. Just having a gay old time until the wee hours, upwards of 40 cats, all without religion and all with tenuous relations with, or living great distances from, their own families. I would, on average, take a friend with me for an overnight trip to Surrey and be welcomed (usually after closing whichever restaurant kept me there until the late-aft early-evening) by family and friends and booze and weed and snacks. Fucking awesome.
It's different now, just my immediate family and some extended family that resides on the island, sometimes a few of their friends. It's more intimate and lacks the joy of seeing people that I as hitherto guaranteed to see at least once a year, which included some surprise drop-ins from my old mates for a few cups. But, I still love it, I don't see my family all that often and even more rare is it for us to all be under one roof at the same time: entirely my schedule's fault.
I think I inherited it, the love of the holiday season, from my mother. I'm not a believer in tradition, but she is. I take experiences as something special and unique. I have cultivated the ability to release myself from attaching a special feeling to the notion of things like heritage and tradition. Kind of like: "It would be nice to do (insert activity here) annually, but the fact we had the experience is what matters." My mom is different. She loves tradition, the establishment and subsequent maintenance of it. The things we do around the holidays; we do for her. She made our Christmases a positive experience, even in the times we had little. Scary little as I learnt when I got older.
I learnt indirectly through her that around the holidays, you share the moments with the people whom you value most. Those closest to you. Those who have been there for you and with you for the other 11 months of the year and will continue to be with you for the next.
Through her, in no purposeful way mind you, I learnt to take the relationships that are dearest and use the season to embolden your affection for those people. I don't mean through gifts or the like, I mean through the simple act of spending time with them, and whatever else comes with that.
At our Christmas Eve shindig, up until a few years ago, you may have seen family. After the OG Papa died, my extended-family started doing their own thing. It may seem weird to some that we chose friends over family on Christmas, but these were the people we spent our time with, laughed with, confided in, over the course of the year. It befuddles real people do the same shit as movie characters with that old 'going home for Christmas with people they hate' archetype. Why do people feel the need to shoehorn individuals or groups they genuinely dislike in to their lives once a year, every year?
My ma, she stopped going to church when she finally outgrew it, even those midnight masses we still had to go to when my grandmother stayed with us. Our larger family lives pretty far away and i they have their own shit going on, friends and what not. We're all doing fine.
When I was 17 or 18, it was around 9 o'clock on Christmas night. My homies with shattered home-lives had hollered at me to join them for a few blunts and some drank. I was worried about upsetting the sanctity of my mom's Christmas night as she sat on the couch with the rest of my kin and watched some sappy flick. I mentioned the call and she told me to go meet up with them, tell them she said Merry Christmas. She told me that I should go and celebrate the holiday with my friends and people that I care about. Classy move, ma.
Alls I'm saying is, why bother cutting a different character than the one you really are for a blink of the year? To me, this is the time to solidify the bonds that you hold close to your heart all year long and take the opportunity to make someone who you really connect with feel special. Fuck tradition and the familial structure if they are cancers upon you and your self-esteem. Why maintain a disease? Especially when its eradication allows for such a better life?
I'm fortunate to love my family. I'm not gloating or boasting- I'm lucky. If anything, they could've turned their backs on me hundreds of times for being a scumbag in my younger days. For being a selfish, block-headed prick.
Though, perhaps that's what it's all about… To forgive them or try and overlook those faults we or they demonstrate the rest of the year. Try and commingle, affectedly, with something that looks like happiness for a few days, or just a night. That's at the core of the family movies that get play around the holidays; overcoming differences and making it work. Affected love and disingenuous relatability.
But, life isn't a movie. If it is, it's more like a documentary, and those end how they should: justly. Sometimes good, sometimes bad, always manifesting unlimited commentary after the credits.
If I didn't love my family, I probably would've moved faraway just so I didn't have to join them many years ago. If I resented my youth or held a grudge with a contemptuous air for the way I had been treated, I decline any invitation. I do the same with friends- why would I waste my time? Why would I volunteer for misery?
I understand if people do, people who live saddled with those circumstances; you're either a better person than me or have the Game-7 ability to perform under such duress that you should get a medal. Or both. It's the bloody mark of tradition, its seething branding-spike that glows whenever duty calls. But, trust me my babies, once you let go of one, the skin starts to grow over and it feels good.
I know I've mentioned this probably more than once, but if tradition hinders you, is it worth preserving? Like any negative codependency, can you grow without casting it asunder? Be it family, friend, job, lover, yearly reunion with a promised toxicity and subsequent illness?
I'm sure that I sound self-centered, but I make no bones about that. I look out for myself and those who I care about. For those special people, I treat them with the same intense desire of preservation and survival that I do for myself. I'm stubborn in my medium age, yeah I'll conceded to that, but if I like you, I'll crawl through a sea of falling-on-your-keys-in-your-front-pocket-feels for you, and do anything that you need or ask. I do this in December as I would do it in June.
I just really like my own bed is all, and few, aside from my own mother, can get me off my own mattress for more than a night. If we speak or hang out, then I value and cherish you like a motherfucker. If we don't, ain't none, we're all just trying to pay rent, or I'm shy.
Part 2 coming soon…
Happy Holidays,
Papa
Sorry for cussing.